Man shot dead in Avignon after threatening public with weapon
It comes on same day three are killed at church in Nice.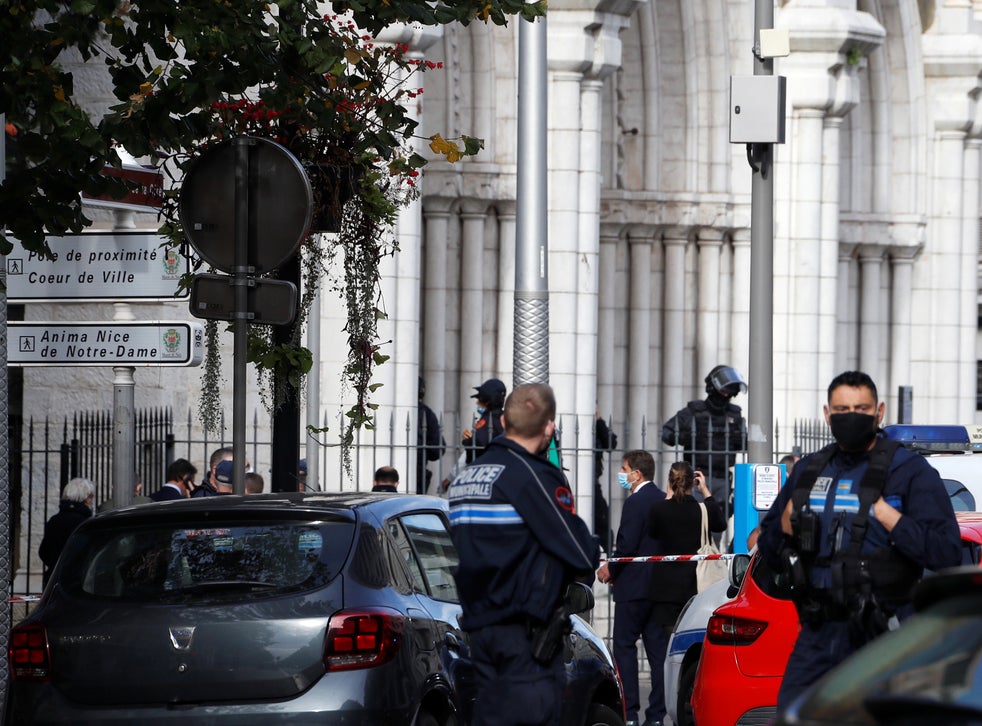 A man has been shot dead by police after threatening people with a handgun in a city in southern France.
The man was shot dead in Montfavet, a district in the city of Avignon, on Thursday, police said.
A police official told The Independent the attacker said he was from the far-right Mouvance Identitaire.
He was killed after he refused to drop his weapon and a flash-ball shot failed to stop him, a police official told The Associated Press.
French media reports had initially suggested he had shouted "Allahu akbar", suggesting it was an Islamist attack.
terroriste-ecartee-par-le-parquet-20201029″>Le Figaro newspaper quoted a prosecution source as saying the man was undergoing psychiatric treatment, and that they did not believe there was a Islamist terrorism motive.
The man appeared to be wearing a jacket displaying a "Defend Europe" logo, which refers to a string of anti-refugee operations by the Generation Identity group.
The pan-Europe white nationalist network, which is called Génération identitaire in France, spreads a conspiracy claiming that white people are being "replaced" and calls for the "remigration" of Muslims from the continent.
The Christchurch attacker, who massacred 51 victims at mosques in New Zealand last year, used the name of Generation Identity's core ideology as the title of his manifesto.
It later emerged that he had donated money to the group and exchanged friendly emails with Austrian leader Martin Sellner.
On Thursday, Sellner posted a photo of the Avignon attacker's body on his channel on the encrypted messaging service Telegram.
"People are now claiming that he is 'part of the Identitarian Movement'," Sellner wrote. "He was wearing a jacket from the [Generation Identity] shop that was freely available online."
Sellner, who was banned from entering the UK on security grounds in 2018, suggested the man was mentally ill and "incoherent".
In a statement released on Thursday evening, Generation Identity denied the man was a member of its French faction.
"The man was neither a participant in the 2018 action in the Alps nor a member," said a statement. "The Identitarian Movement has always distanced itself from terror and violence and follows the principle of non-violent activism."
Senior members of Generation Identity's French branch were jailed last year over parts of Defend Europe mission, and authorities have previously considered a ban on the group.
On the same day as the gunman was shot dead in Avignon, a man was arrested after attacking and injuring a guard at the French consulate in Jeddah, in Saudi Arabia.
Also on Thursday, three people were killed in a church in Nice, whose mayor has described the knife attack as terrorism. Their throats were cut and one other person was injured, a police spokesperson told The Independent.
The French prime minister said the country's threat level would be raised to its maximum following the Nice attack, and the anti-terrorist prosecutor's department said it had been asked to investigate.
Thursday's attacks come just two weeks after the killing of French teacher Samuel Paty, who was beheaded outside a school near Paris.
Mr Paty was targeted because he had shown students Charlie Hebdo cartoons depicting the Prophet Muhammad during a class on free expression.
The Afghan Taliban released a statement on Sunday attacking Emmanuel Macron's response to the murder of Mr Paty.
The terrorist group accused the French president of making "irresponsible remarks against Islam" and "assuming a stance that threatens international peace and inflames enmity and animosity among nations".
3rd person held in France knife attack south of Lyon
French authorities say a third person has been detained in a anti-terrorism investigation over a knife attack south of Lyon that left two people dead
A third person has been detained in a anti-terrorism investigation in France over a knife attack south of Lyon that left two people dead, authorities said Sunday.
The third arrest was made Saturday night, and that all three of the suspects are Sudanese, the French anti-terror prosecutor's office said.
France's counter-terrorism prosecutor's office said the assailant was arrested minutes after as he was kneeling on the sidewalk praying in Arabic. It said one of his acquaintances also was detained.
Prosecutors didn't identify the suspect. They said he had no identification documents, but that he is Sudanese and was born in 1987.
During a subsequent search of his home, authorities found handwritten documents that included arguments about religion and a complaint about living in a "country of unbelievers."
The prosecutor's office didn't confirm reports that the man shouted Allahu akbar, the Arabic phrase for God is great, as he stabbed and slashed people.
Bangladesh: Tens of thousands of Muslims protest over Macron remarks after killings in France
Tens of thousands of Muslims protested in Pakistan, Bangladesh and Palestinian territories on Friday after killings in a French church prompted a vow from President Emmanuel Macron to stand firm against attacks on French values and freedom of belief.
French Interior Minister Gerald Damarnin said France – home to Europe's largest Muslim community and hit by a string of militant attacks in recent years – was engaged in a war against Islamist ideology and more attacks were likely.
In Pakistan, police fired tear gas at thousands of demonstrators marching towards the French Embassy in Islamabad, with some protesters trying to break through police barricades, witnesses said.
In Muslim-majority Bangladesh, tens of thousands marched through Dhaka, the capital, chanting "Boycott French products" and carrying banners calling Macron "the world's biggest terrorist".
"Macron is leading Islamophobia," said Dhaka demonstrator Akramul Haq. "He doesn't know the power of Islam. The Muslim world will not let this go in vain. We'll rise and stand in solidarity against him."
Some Bangladeshi demonstrators also burned effigies of Macron and carried cutouts of the president with a garland of shoes around his neck, a severe insult according to Islam.
In a Muslim-majority district of India's financial hub Mumbai, some 100 posters showing Macron with a boot on his face and calling him a "demon" were pasted on pavements and roads.
In Lebanon, security forces fired tear gas to drive back some 300 protesters including supporters of a local Sunni Islamist party who marched from a mosque in the capital Beirut to the official residence of the French ambassador.
Thousands of Palestinian worshippers rallied after Friday prayers at Al-Aqsa Mosque, the third holiest site in Islam, in Jerusalem's walled Old City to condemn the republication of Mohammad cartoons in France. "A nation whose leader is Mohammad will not be defeated," protesters chanted.
"We hold the French president responsible for acts of chaos and violence that are taking place in France because of his comments against Islam and against Muslims," said Ikrima Sabri, the preacher who delivered the sermon at al Aqsa.
In Ramallah, in the Israeli-occupied West Bank, Palestinians trampled on a large French flag and burned other French flags.
In Gaza, ruled by Palestinian Islamist movement Hamas, hundreds of Palestinians took part in anti-France rallies, chanting: "With our souls and blood we will redeem the Prophet."
In Somalia, thousands turned up for Friday prayers in mosques where sermons were dominated by curses and condemnation of Macron and his government.